ARC-10 is a top quality, easy to use GSM controller for alerting and remote control using SMS. The rail mount unit incorporates a Quad Band (850/900/1800/1900MHz) GSM/GPRS modem, two digital inputs, two power relay outputs and a serial RS-232 port. Up to five hundred users can be configured to switch a relay output via a toll-free phone call (e.g. for opening the garage door or a parking barrier). Ten users can be configured as alert recipients. All SMS functionality remains intact during GPRS operation. This means one can use the unit as a wireless modem to communicate with a remote serial device e.g. a traffic light controller or a vending machine and simultaneously benefit from the SMS alerting and remote control functionality.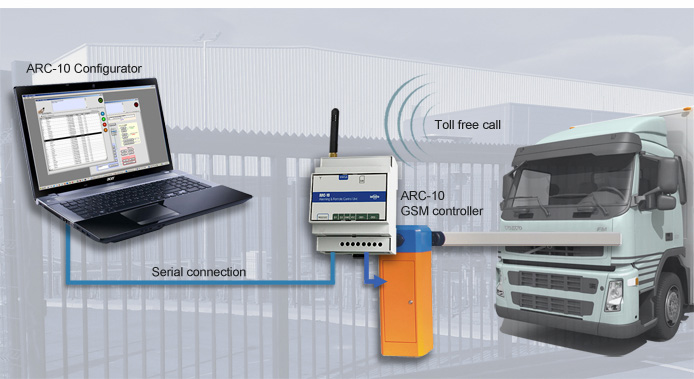 Features
2 digital inputs.
2 power relay outputs.
One output can be configured to switch with a toll-free phone call.
Simple SMS commands for both configuration & control.
SMS commands can be passed through the local serial port for testing and commissioning.
Flexible user administration.
Simple setup and operation
All setup and control can be done using a mobile phone. Simple ASCII configuration commands are used for unit setup and control. Several commands can be packed in one SMS. The RS-232 interface can be used to alternatively setup and test the unit using a PC or an ASCII terminal.The rich command set features commands for configuring input alarm parameters, defining users and controlling system outputs with time related parameters.
Applications
Garage door opener
GSM Access Control, more »
Vending machines
Security systems
Fire and smoke alarming
Lights control
Home automation
Heating control
Greenhouse controls
M2M systems, more »
Bygg enkla M2M funktioner med ARC 10.